---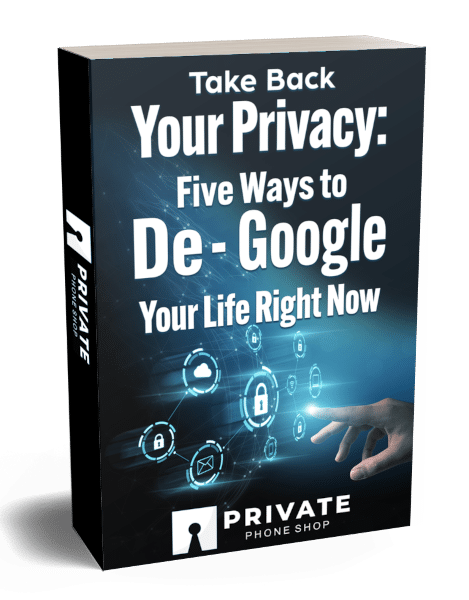 Get a free copy of our e-book "Take Back Your Privacy: Five Ways to De-Google Your Life Right Now." You'll also receive our e-letter with privacy tips and resources, plus a free bonus if you purchase one of our phones.
---
Why carry a device which spies on you and tracks you constantly? Big tech companies are no friend to anyone who values privacy, freedom, and free speech. Take control of your data and your privacy with one of our de-googled phones below. We have top quality phones with GrapheneOS, CalyxOS, and LineageOS installed, with no google login or account required. We also provide a guide with each phone to help get you started, along with recommended apps you might want to install.
Unlike other stores, all of our phones are in stock and ready to ship! We also accept crypto payments, with a 3% discount.
---
What is a de-googled phone?
When phone manufacturers install Android on their phones, they include their own proprietary apps, along with the play store which allows you to install new apps. To use all of this, you need to log in with a google account.
A de-googled phone is based on an alternate version of Android, with LineageOS, CalyxOS, and GrapheneOS being some of the most popular. For everyday use these are 99% identical to your typical Android experience, but with one important exception – there are no google apps installed! This means your phone is no longer tracking your every move and sending your data back to google's servers. It's your phone and your data, you should be able to decide what you share.
Are de-googled phones easy to use?
Absolutely! A de-googled phone works exactly the same way as any other Android smartphone. The main difference is how you install apps. Most de-googled phones use F-droid and the Aurora store, which provide open-source apps and an anonymized version of the play store. Additionally there is MicroG, which spoofs some aspects of google services. This allows apps which check for the presence of google to function properly.
For more answers to common questions, please see our FAQ section.
---
Here is what some of our customers have to say:
---
Phone privacy is very important for everyone.